The Easter bunny paid a visit to our house in a big way. My daughters got 3 (yes, count em, 3) baskets apiece, and my stepdaughters loved their ponchos and hats. I'm so relieved that I finished everything on time. It was very close (lock myself in the bedroom and "chat with the Easter Bunny" for two hours yesterday morning kind of close.)
I started a new project on Thursday night while watching the Illinois bball game at the bar with hubby and a friend. They both were a little embarrassed by me, I think, but I really don't mind, I got a lot accomplished! The new WIP is my interpretation of the Jessica Simpson shawl. It's made with a P hook and a single strand of Bernat Soft Boucle in a creamy yellow-tan, from the bottom up. I think I'm already about halfway done, and it's going to be just lovely.
This evening I cast on for another practice knitting swatch: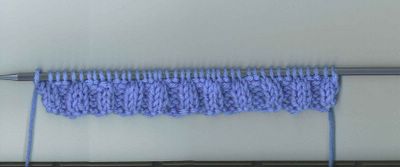 This is my first attempt at ribbing. I think these first five rows are going well, although I must've frogged eight different times before I finally got it right. My recent purchase of Debbie Stoller's "Stitch and Bitch" has me all inspired and hyped to practice my knitting.

I'm really enjoying looking through the book and the directions are SO easy to understand, most likely due to the fact that they're on the casual side. Although I love the learn-to-knit book Dewey gave me for Christmas, I'll probably refer to Stitch and Bitch so much more.